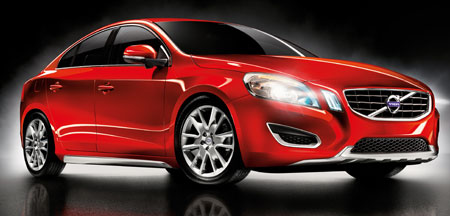 We had the chance to test-drive the new Volvo S60 as part of their Naughty Tour. Volvo redesigned their 2011 S60 to make it the sportiest and most dynamic Volvo ever. The S60 features a turbocharged T6 engine, AWD, 300 horsepower, and 325 lb-ft of torque, making it Volvo's most powerful 6-cylinder engine to date. What do you think, was our test drive naughty or nice?
I pushed the S60 to its limits (at least as much as I could on Volvo's closed track), and oh boy did it push back!

Photo Gallery
New Features & Safety Tech
The new S60 features an array of cutting edge safety technology, starting with a new collision-avoidance sensor suite. The pedestrian detection system (included as part of the tech package) uses radar and a camera to detect and identify pedestrians standing or moving in front of the vehicle.
If an S60's sensor suite spots a person in its path, a series of alarms will go off to alert the driver. If the driver does not react, the vehicle's auto-brake will kick in when absolutely necessary. Speaking with a product manager, I was told that the S60's auto-brake can avoid a pedestrian collision at speeds up to 22mph. Above that, the system will try to slow the car as much as possible.
The same sensor suite can be used to avoid collisions with moving vehicles in traffic conditions, although the full auto-brake can only be achieved at speeds of 22mph or slower. Without the optional tech package, the included City Safety package features an IR laser sensor that can be used with the S60's auto-brake to avoid collisions when the difference in speed is 9mph or less. At speeds from 9-18mph, the auto-brake can help reduce the energy of an inevitable impact.
Adaptive cruise control. That's right, the same safety sensor suite can be used to "tail" the car in front of you. At speeds above 18mph, an S60 (equipped with the technology package) can be set to match the speed of a vehicle in front of it. Drivers can set a time-gap, allowing them to follow at a comfortable distance.
Collision Avoidance & Parking Assist Experience
Testing the S60's pedestrian detection  system was quite an experience. We accelerated the car to 10mph and I was told to keep my foot off the brake pedal. As we approached the mannequin, a series of flashing LEDs and audible warnings went off. Only when we were right on top of the mock pedestrian did the auto-brake kick-in. The auto-brake is used as a last resort, and fully stopped the car just ahead of the dummy.
We then tested out the S60's parking assist feature. When in reverse, a camera and sensors are used to help guide the car. Sensors (presumably ultrasonic) are used to measure the distance between the car and another car or other object or barrier. A video image from the rear camera is displayed on a georgeous in-dash display, and guide lines are projected to help the driver visualize where the car is going. This system worked remarkably well, allowing me to back up to within 2-3 inches of a target.
Test Drive
WOW. Volvo wasn't kidding, the S60 is one sporty car. The test-drive consisted of a closed 35mph track that featured soft turns, a guy throwing foam "rocks" in the road, and hanging plush deer that swayed back and forth. An Audi A4 and BMW (sorry, I forgot which one) were available for comparison. I tool the Audi around the track after the Volvo, and while a somewhat comparable experience, the S60 was a bit more "fun" to drive.
It was tough to really qualify the driving experience. I'm used to driving older 6-cylinder sedans and newer 4-cylinder sedans and SUVs. The S60 was an immensely satisfying ride. It was an incredibly smooth ride with fluidic steering and its acceleration was gentle yet powerful. There's not much more to say about the test drive other than the S60 was thoroughly enjoyable.
Naughty Test Drive (Autocross)
We were then offered the opportunity to drive an S60 around a closed autocross track. Since the public event was not due to start for another half hour or so, we were then allowed to drive around the autocross track as much as we wanted.
I started off fairly mildly, just enjoying the S60's smooth ride. After going around the track twice, I watched as a Volvo driver took one of the cars around the track. Once the smoke settled, I hopped back in and left my inhibitions at the waiting area. I then took the car around the track three more times, each time taking it closer to its limits. I noticed a bit of understeer, but my goodness, it had incredible traction control!
Overall, I left that day feeling incredibly impressed with Volvo's innovations. Is their 2011 S60 the sportiest Volvo ever? Absolutely. Prior to the event, when I heard "Volvo", I thought "safe", "boxy", "boring". Now when I hear "Volvo", I think "kick-ass ride with some pretty snazzy tech."
The 2011 S60 T6 AWD model starts at $37,700, and a T5 FWD model is due out in 2012 with an MSRP of $31,450.
When we left, Volvo reps gave us a small 2008-edition emergency preparedness kit. We were invited to and attended the Naughty Tour without compensation or any editorial conditions, and as always, the above opinions are our own.