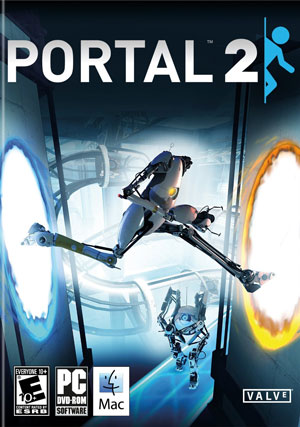 Portal was originally included as part of Valve's Half Life 2 Episode 2 Orange Box release, and it was a very clever and entertaining game. After Portal earned much acclaim since its 2007 release, Valve went to work on Portal 2, which was released yesterday.
I don't want to spoil the story for you, so I'll be short – in Portal 2 you have a portal gun, and many puzzles to solve. In each level, you are tasked with getting from the starting point to the exit, some with many challenges in your way. Your portal gun lays down 2 doorways through which you transit from one point to another simultaneously.
With a rating of E, Portal 2 is fun for everyone ages 10 and up, although younger players may require a peek at an online walkthrough or two.
Portal 2 is available for PC, Mac, Xbox 360, and Playstation 3 platforms. If you're hesitant to pay $45-$55 for the game, check out the free Portal 1 demo for a small taste of what Portal 2 offers.
Portal 2 via Amazon
Product Info via Valve