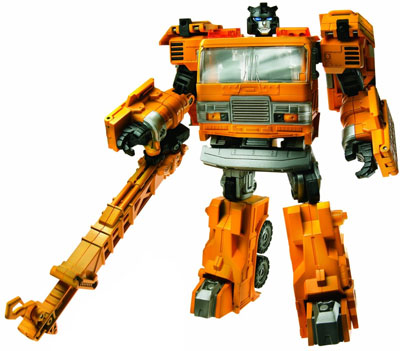 Let me start off by saying that I am a huge Transformers fan, always have been. The current line of Transformers "Generations" action figures are great models that resemble the robots they portray, and they transform easily. But the movie-themed action figures? Intricate and horribly complex to transform.
A couple of years ago when the first movie came out, I purchased a Bumblee Bee action figure. After a little struggling, it was transformed and standing flimsily on the shelf. Sometime after that, maybe around the time of the second movie, I purchased a Decepticon bulldozer. To say that the transformation process is difficult is a bit light – it is frustratingly complex.
Not having learned my lesson, I have since purchased Arcee and another Autobot motorcycle, and more recently, a Voyager class Optimus Prime and Ironhide. My goodness, these are all the worst Transformer action figures I have ever seen. Transformers are supposed to, you know, transform. Pieces wouldn't move where they were supposed to go, parts popped off, and the entire ordeal was maddening. And when all is said and done, the figures are difficult to stand up and pose.
Whose fault is this? Hasbro or Michael Bay? No doubt the models are so complex to transform because they're detailed to resemble on-screen characters. But if a late-20s adult has problems transforming a Transformers action figure, how is a child going to manage?
While the Transformers Generation action figures are blockier and less detailed than the movie action figures, they offer almost as much articulation and loads more playability. Not that I play with or regularly transform my action figures outside of the initial conversion (20th anniversary Optimus Prime excluded).
So if you're looking to buy a Transformers action figure for a child this holiday season, I strongly recommend that you look at the Generations series and urge you not to seriously consider any of the movie-series action figures. Unless of course you don't mind helping every time your kids want to transform their figures, at which point I'll whip out an I told you so.