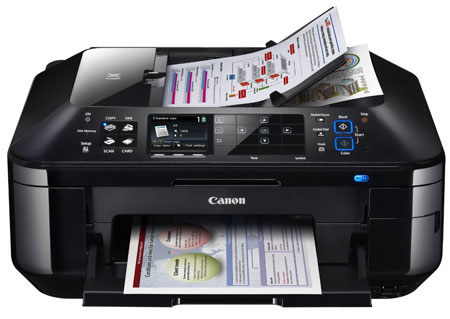 With my trusty Sony earbuds down for the count, I wondered what would fail next. Well, it seems that my Canon MP800 multi-function inkjet printer decided to kick the bucket. I received a 6A00 error last night, complete with a flashing green and amber alarm.
A little googling revealed that it's not an easy fix, and that such errors usually call for a trip to a Canon service center. I purchased the printer ago nearly 6 years ago (December 2005), and since it's out of warranty and quite heavy, I'm not going to through hassle of shipping to a service shop.
An odd ink-streaking issue cropped up in recent weeks, and although a few cleanings reduced its effect, I can't help but wonder if this is related to what people online describe as paper path purge unit issue, as indicated by the 6A00 error.
I tried to fix things myself by jiggling things here and there where a few online sources suggested, but that proved to be ineffective as I have no idea what I'm doing. So… it's time to purchase a new printer.
I don't want to obsess over this, but I did do a bit of research. I narrowed things down to the Canon MX882, Canon MG8120, and the Epson WorkForce 840. The MG8120 looks to be a descendant of my MP800, with the MX882 looking more like an office printer. I have used the slide and negatives holder in my MP800 all of two times in 6 years, so even though that is an appealing feature of the MG8120, it's not something I will likely use.
It came down to the MX882 and Epson WorkForce 840. While the Epson offers faxing from a computer (phone-free?), there is software I can use the one time per year or so I need to make a fax. The MX882 can send faxes the traditional way, I don't have a conventional phone line.
Ultimately it came down to the MX882 and MG8120, and I determined that the auto-document feeder of the MX882 is more desirable than the enhanced photo-oriented features of the MG8120. If I want to print a photo here and there, I have a higher-end photo printer that cost me $50 with the purchase of my last camera that's just sitting around collecting dust. The Epson 840 was eliminated early on due to its much taller size. As much as I could sometimes use its 2 x 250-sheet tray capacity, it makes the printer look too large for where I would use it.
Canon MX882 Multifunction Printer via Amazon
I ended up ordering the MX882, and will have to think about what to do with my broken down MP800. It's been with me for more than 20% of my life, and so kicking it to the curb will be a tough choice.