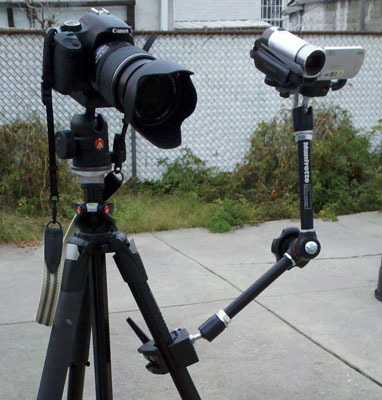 I was recently in quite a pickle. I needed to take photos and record video at the same time, but I only had one tripod available. Luckily I had recently purchased a Manfrotto Super Clamp and a variable friction Magic Arm.
The Super Clamp does as its name suggests – it clamps onto surfaces. You can clamp it as-is to cylindrical objects (poles, tripod legs, bike frames), or use the included wedge adapter to clamp it to flat surfaces such as table edges and shelves.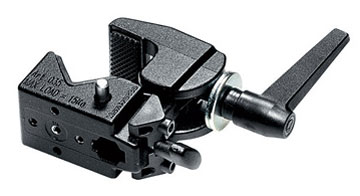 The Magic Arm is a double-ended positioning arm with an elbow joint at its center. At each end are standard photo accessory studs that rotate freely in their ball-and-socket joints when the variable friction knob is loosened.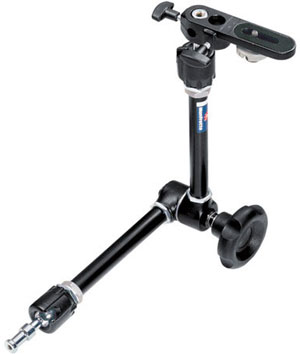 Combined, the Magic Arm and Super Clamp combo proves to be quite versatile for positioning cameras, flashes, and other photographic accessories. A camera bracket makes it much easier to attach a camera to the magic arm.
In the end, I attached the Super Clamp to my tripod, and a video camera to the magic arm, and everything worked out well.
In addition to this variable friction model, there is a Magic Arm that features a more on-off type pivot lock. The Super Clamp can be purchased with or without an accessory stud. I opted for the model with the stud for a few dollars more since I plan to use the setup with additional equipment. I purchased everything via Amazon directly and through Adorama's Amazon store.
These items are made in Italy (at least the ones I recently purchased).
Manfrotto Magic Arms via Amazon
Manfrotto Super Clamp via Amazon
Super Clamp | Magic Arm Product Info via Manfrotto: