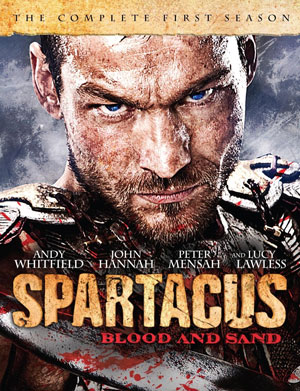 This past weekend I watched all 13 episodes of Spartacus: Blood and Sand season 1. I found the series to be extremely enjoyable and addictive, and with a compelling storyline. Its style borrows less from Gladiator and more from 300, but I didn't mind that at all.
Spartacus Blood and Sand is extremely violent, and at one point I wondered if the series would set a record for the most fake blood used in a televised production! But between such scenes, a gradual but, forgive the expression, well executed character development leads the viewer to care about who lives and who dies.
The series sports a substantial amount of graphic violence and gore, adult content, sexual content, nudity, and adult language. At times the adult language and vulgarity of a scene may seem excessive, but they usually lend to the series' overall atmosphere and setting. Spartacus Blood and Sand also features quite a few jolting surprises and plot twists, which definitely add to the energy of the show.
Each ~55 minute episode smoothly leads into the next, and with many individual plot lines spanning several episodes, I found it difficult to stop watching! That said, I definitely recommend Spartacus: Blood and Sand!
Spartacus Blood and Sand DVD Season 1 via Amazon | Also via Blu-Ray
Spartacus: Blood and Sand is rated TV-MA.