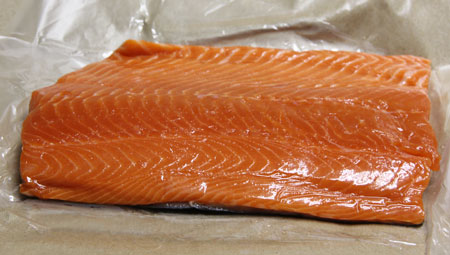 Over here on the east coast, the first wild Alaskan salmon catch of the year has arrived! Copper River Alaskan Sockeye Salmon first hit the fish counter at my local supermarket (Wegmans) last weekend, and we've already had a taste.
If you enjoy salmon, you MUST find a way to try some wild Alaskan salmon. It is far more flavorful and tasty than farmed salmon, and it's probably healthier as well. It does cost quite a bit more, though – the first fillets of the season were priced at $25 per pound.
If you cannot find wild Alaskan salmon locally, there are places you can order it from online. I haven't done this yet, but might give it a try later in the season.