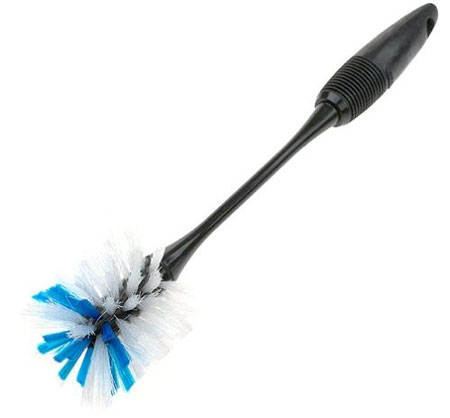 We've posted about quite a few water bottles, so you know I'm a fan of reusable bottles. One of the major complaints I have about BPA-free plastic bottles is that they absorb odors very quickly if you're not careful. So to avoid this, I wash my bottles fairly regularly these days.
Most of the time, I don't scrub down the insides of my bottles – I add a drop a dish soap and slosh the water around a bit. I then close up the caps and give the bottles a good shake before rinsing them out a few times. But this doesn't really help if there's juice residue at the bottom or if the bottles are in need for a very deep and thorough cleaning.
So, I picked up an OXO bottle brush, and for the most part it works reasonably well. The cleaning brush features a bell-shaped bundle of bristles at the end of a plastic handle. It's simple, but effective. You can find these brushes for about $5-10.
OXO Good Grips Bottle Brush via Amazon