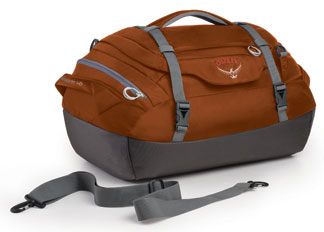 Three days before a week-long trip, I realized that I needed a new duffel bag. I'm not a fan of rolling carry-on luggage, and so I was looking for a soft-shell bag. Osprey's Transporter series 46-liter pack seems to fit the bill. The Transporter 46 is spacious and with generously large handles while being small enough to serve as a carry-on.
This bag features a main compartment, one smallish end pocket, and a slim top panel pocket. It also includes a shoulder strap, or rather a thin piece of webbing that Osprey is calling a shoulder strap. All 3 of the larger Transporter bags include a backpack-style stowable harness instead of this strap.
At only $55-65, the Transporter 46 is pretty reasonably priced. I'll fill it to the brim and toss it around town for a week before reporting back with a review.
Osprey Transporter Packs via Amazon
Product Info via Osprey