I first wrote about the inexpensive and versatile Arduino microcontroller about a year ago. Since then I have worked with it a bit more, and have seen tons of interesting and innovative projects based off it.
There are many ways to get started with Arduino, but until now there have not been any starter kits from the actual official designers and makers of the Arduino platform.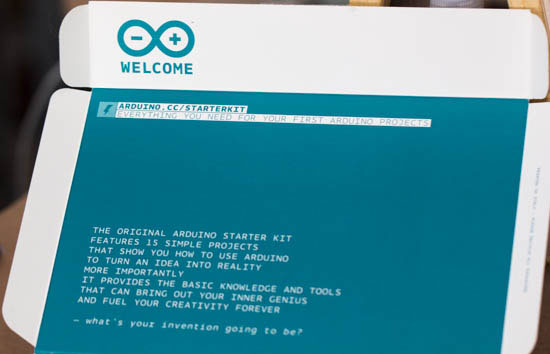 From the inside cover:
The original Arduino starter kit features 15 simple projects that show you how to use Arduino to turn an idea into reality. More importantly, it provides the basic knowledge and tools that can bring out your inner genius and fuel your creativity forever. What's your invention going to be?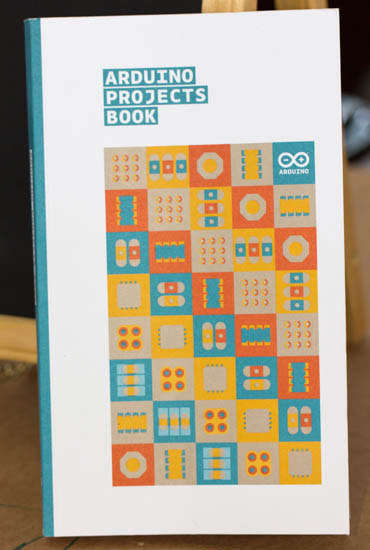 What I found most interesting and exciting is that the Arduino team put together their own projects book. Unfortunately, the book will only be available as part of the starter kit. I peeked at the book in the Arduino tent at the 2012 NY Maker Faire, and was deeply impressed at its quality. Please, please, PLEASE make the book available for purchase by itself!

Projects Book Chapters/Projects:
01 GET TO KNOW YOUR TOOLS an introduction to the concepts you'll need to use this kit
02 SPACESHIP INTERFACE design to control panel for your startship
03 LOVE-O-METER measure how hot-blooded you are
04 COLOR MIXING LAMP produce any color with a lamp that uses light as an input
05 MOOD CUE clue people in to how you're doing
06 LIGHT THEREMIN create a musical instrument you play by waving your hands
07 KEYBOARD INSTRUMENT play music and make some noise with this keyboard
08 DIGITAL HOURGLASS a light-up hourglass that can stop you from working too much
09 MOTORIZED PINWHEEL a color wheel that will have your head spinning
10 ZOETROPE create a mechanical animation you can play forward or reverse
11 CRYSTAL BALL a mystical tour to answer all your tough question
12 KNOCK LOCK tap out the secret code to open the door
13 TOUCHY-FEEL LAMP a lamp that responds to your touch
14 TWEAK THE ARDUINO LOGO control your personal computer from your Arduino
15 HACKING BUTTONS create a master control for all your devices!
The back of the box gives you a peak at the types of components that are included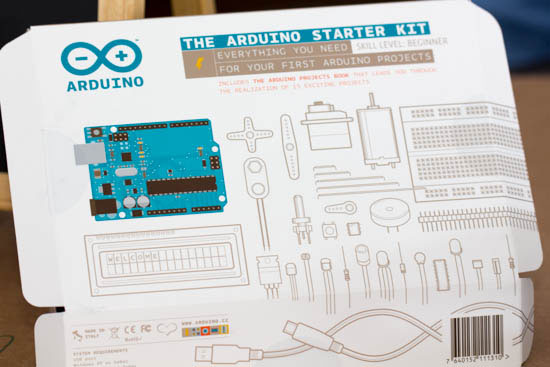 The full component list can be found via Arduino's website. The USA price and distributor list is not yet available, but UK pricing puts it at £70, or about $112.
There's also a series of video tutorials by Arduino CEO Massimo Banzi. Here's the first: