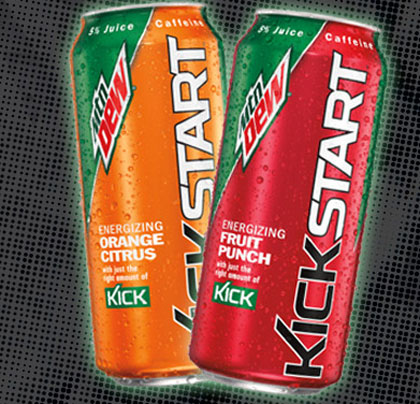 Mountain Dew Kickstart is a new breakfast juice drink. Seriously, its 5% juice concentration means it's a juice drink and not soda. There's some caffeine in there as well.
I haven't seen mention as to whether it's carbonated or not, but it might be.
There will be two Kickstart flavors – Energizing Fruit Punch and Energizing Orange Citrus.
This sounds like a bad, bad idea to me. Seriously – do we really need breakfast soda?
I'm a big fan of fruit juice and juice drinks, but a caffeinated 5% juice drink doesn't seem all that appealing to me. I do like carbonated juice drinks, though, and am finishing up a can of IZZE Sparking Blackberry as I write this. The IZZE is a 8.4 oz can with 70% juice and no caffeine.
An interesting note – Kickstart is said to have more caffeine than regular Mountain Dew, and uses artificial sweeteners to lower the calorie count.