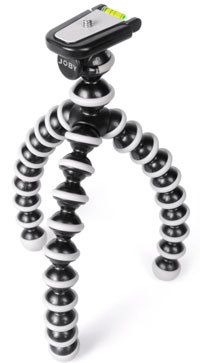 Even with optical and image stabilization capabilities built into compact digital point & shoot cameras and many SLR lenses these days, there are times when it just isn't enough. Can you hand-hold a P&S camera – or any camera for that matter, stead for 5 seconds as you try to photograph fireworks? I don't think so.
When travelling, I sometimes take my full-size tripod (shown here), other times I pack my compact one. When those options are too unwieldy, I bring along a GorillaPod. I have an older "GorillaPod SLR" model that I bought a while ago, but newer models include ball heads, heavier duty joints, and bubble levels.
GorillaPods are fairly inexpensive, ranging from $16 for the P&S model, to $30 and up for more sophisticaned and larger capacity ones. There are plenty of knock-offs on the market these days, but I haven't yet seen one that compares to Joby's quality.
I've used my GorillaPod in the sand, on tables, off railings, in the snow and in a grassy field. I never found a good time to wrap it around a tree as shown in various advertisements, but one day I'll find a good reason to do so.
Joby GorillaPod Flex-Leg Mini Tripods via Amazon
Product Info via Joby
(Pictured above is the new GorillaPod SLR)