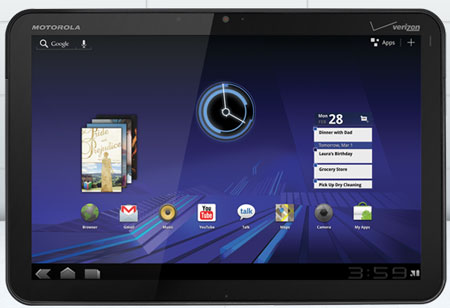 The tablet wars of 2011 are about to begin. At CES 2011, a few new tablet computers have already been announced, but Motorola's Xoom tablet is turning the most heads.
The Xoom features a dual-core processor, 1 GB of ram, a 1280 x 800 10.1″ touch screen, forward facing and rear video cameras, and it promises "PC-like performance."
Pricing and availability have not yet been announced. Initial devices will be compatible with Verizon's 3G cellular networks but will be upgradeable to 4G compatibility a few months after release.
It remains to be seen if the Xoom will be available as a wifi-only model for those that don't want to pay for a data connection package.
Motorola Xoom WiFi Version via Amazon
Motorola Xoom (via Motorola)