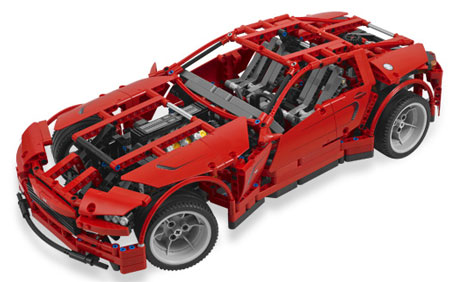 Lego's Technic Supercar rolls in at 18″ long, 8″ wide, and 1281 pieces deep. It features opening scissor doors, an extendable rear spoiler, a realistic suspension, and popable hood that exposes moving pistons.
The Supercar includes a Power Functions motor, although I cannot quite figure out exactly which functions it is used to control. I'm thinking that it opens up all of the doors and compartments at once.
The Supercar is priced at $120, so beware of price gougers. As of 4/20/11, you can still order one at its normal price from the Lego store or larger retailers such as ToysRUs.
Lego Supercar via Amazon
Lego Technic Supercar via Lego Store
If this model doesn't quite catch your eye, check out the alternate "B" model!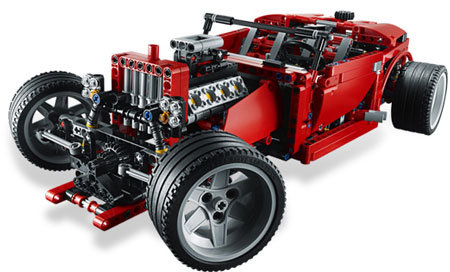 I regretfully passed on buying and building the past few Lego Technic and Technic Ferrari cars, so I wasn't about to pass this one up!