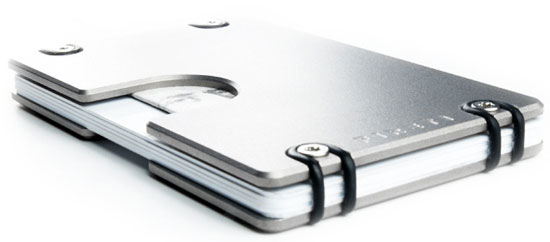 Over at Kickstarter, the Omega Compact Solid Titanium Wallet was recently fully funded, and there's still 24 days to back the campaign. The wallet consists of two CNC-machined slabs of titanium held together with rubber O-rings.
I find the Omega wallet exceptionally appealing, but cannot quite put my finger on exactly why. Maybe it's the titanium, maybe it's the wallet's slender low profile, or maybe it's the elegance of its simplicity.
The classic wallet is currently priced at £50 and the engraved or anodized version is £55. Estimated retail prices will be £60 and £70 respectively. If the design strikes your fancy but you would rather not spend the premium for titanium, the aerospace aluminum version is priced at £25.
With today's conversion rate, £1 = ~$1.58, so £25 is about $40 and £50 is about $79. £5 ($7.90) is added to each order for international shipping.