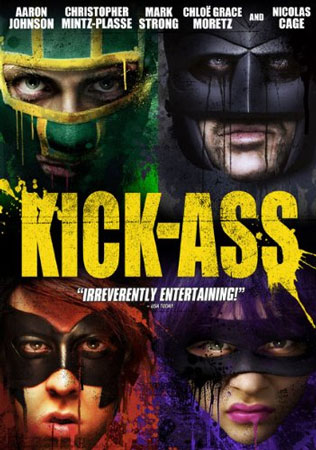 I added Kick-Ass to my Netflix queue a long, long time ago, so when it arrived last weekend I didn't know what to expect. I knew it had something to do with an amateur super hero teen and Nicolas Cage was a Batman-wannabee, but that's about it.
Kick-Ass is rated R for its profanities, blood, blood, more blood, and a dabble of drugs and an adult situation or two. The movie is funny, in a semi-twisted kind of way, and it has a balanced level of action. It sort of has a Leon the Professional meets Sin City vibe to it.
I definitely recommend Kick-Ass, and although it does have some re-watch potential, it may be better rented than purchased.
Kick-Ass via Amazon (Available on DVD, Blu-ray, & Digital)
(And yes, that's McLovin from Superbad!)