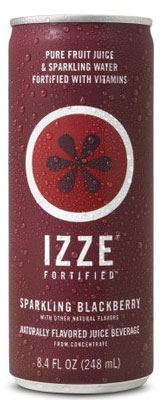 I'm a HUGE fan of IZZE sparkingly fruit juice drinks. Not only do they taste great (at least most of the different flavors), I don't feel bad drinking an IZZE since they're mostly composed of fruit juice (70%).
I started buying IZZE in 4-packs at the supermarket a while back, but now I just order them by the case via Amazon. While the price on Amazon is very reasonable, it's slightly disappointing that the cans are 8.4 ounces instead of 12 ounces like the bottles.
From now thru Sept 11, Amazon is offering a 15% coupon on IZZE drinks (code: BEVE4343). Coupled with their 15% subscribe and save program, that's 30% off, or $16.10 per case of 24 cans.
If you've never tried IZZE before, the blackberry flavor, my favorite, is pretty decent.
IZZE Sparkling Fruit Juice Drinks via Amazon
Drink Info via IZZE
Also, you won't find any high fructose corn syrup or caffeine in these drinks!