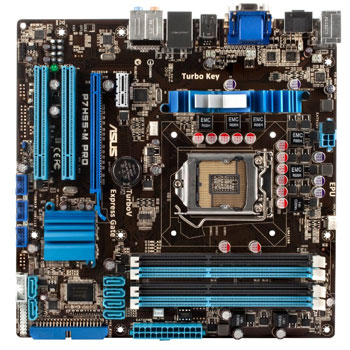 This week I decided to add a home theater computer in my living room for DVR (digital video recording) use. I've had one running in the bedroom for about 5 years now, and it's due for an upgrade as well. The two computers will mostly be used to record TV shows for future viewing.
Following is a brief breakdown of the parts that will be used for the builds, as well as an explanation about how some of the parts were chosen.
When selecting the parts for an HTPC, noise, heat and power are two factors that must be considered. First, HTPCs should be as quiet as possible. There's nothing worse than trying to hear whispering dialog over the high-speed buzz of cooling fans. 120mm fans are ideal, although 92mm or 80mm fans can be used as long as they can be silenced or under-volted with a potentiometer or similar fan-speed control.
To help keep noise down, low-power components can be used. This also helps keep heat down. Many HTPCs don't even require dedicated video cards these days, but if want or need one, try to choose one with a passively cooled heatsink (as opposed to an active cooling one which must be fan-cooled).
Lower power components also consume less electricity than higher powered ones. There are many "green" hard drives on the market today that offer reduced performance in favor of less noise and lower electricity consumption. These hard drives are also cheaper than everyday or higher performance drives, so you can add more storage space with the money you save.
Here's What You Will Need:
I chose this particular motherboard series (H55) because it provides integrated video when paired with a comparable processor, such as the i3-5xx series. A separate video card can still be used, and if necessary I will add a passively cooled Radeon HD4550. The RAM I chose is overkill for a build like this, and the power supply too beefy, but they were very reasonably priced.
I could have also saved some cash if I went with a Western Digital "green" series hard drive, but I've had good experience with their "black" series drives. Samsung's Spinpoint drives are also often recommended for HTPC use.
One thing to note – the motherboard I chose is a "micro ATC" form factor, smaller than a full-size "ATX" board. One of these new PCs will be going in a full-size case I already have available, and the other will go into the mentioned Silverstone case. That particular case includes three 120mm fans, which shouldn't make all that noise. Silverstone is very experienced at designing quality HTPC enclosures, and I have confidence in their cases.
DVR software is not required for those using Windows 7 Premium or above which feature Windows Media Center.I have yet to find a free channel/program guide – most require subscriptions. Beyond TV requires a one-time licensing fee. I'm quite fond of Beyond TV's layout and controls, and recommend them without hesitation.
If you will use Windows Media Center for TV viewing, you'll need a compatible remote. If not, Snapstream's Firefly and Firefly mini are great remotes.
I will only need an optical drive when installing software to the PC, so I will borrow one from my main computer. Yes, you can use it to play DVDs, but I haven't found one that runs as smoothly or quietly as a dedicated DVD player. There are Blu-Ray drives available, but from what I've read they require a dedicated video card.
Speaking of video output, don't forget to pick up an HDMI cable to connect the PC to an LCD TV. You can also use VGA or DVI, but if you have an older tube-style TV, you'll need a dedicated video card with composite or S-video outputs.
Also, you may or may not need keyboard or mouse with the PC. I do have a combo setup that I use for my current DVR PC, but it's very rarely used. You can always add a cheap wired keyboard and borrow a mouse from another PC when you really need it. I actually like to keep a wired keyboard around in case I have trouble using a wireless keyboard to setup a newly built system.
These will be my 5th and 6th self-built PCs. I built my first in early 2004, so this is something that I'm used to. If you think I left anything out, or are in need of clarification, feel free to ask.
Some of my ordered parts are in, others will arrive late next week. If there's interest (or even if there's not), I'll plan for a quick build-log.