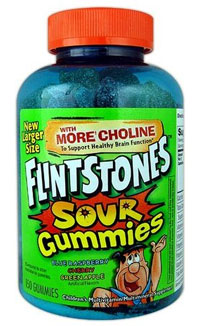 I don't like taking vitamins, but I like the boost they give me since I don't always eat healthily. I've been taking Flintstone Sour Gummies for some time, and am pretty satisfied with them. I tried taking adult vitamin capsules before, but that never really panned out.
It was always the same story – I would make a conscious effort to take an adult vitamin once a day, and this would usually last a week or two before I forgot a dose. Then another day goes by. And then a week. One month. Two months. A year. Finally, I find the bottle under a pile of clutter, only to see that the vitamins have expired.
I've actually been doing well recently with these Flintsones sour gummies. Yes, I know, it's a "children's multivitamin multimineral supplement." An adult dosage is two vitamins. I compared these to the adult gummies on the shelf, and found little difference, except the adult versions had a few more chemicals (aspartame!), and a higher price. The vitamin levels were seemingly comparable, and the adult dosage were also two gummies.
I'm on my third sour gummies bottle and recommend them. The gummies do get a little stale and slightly tougher over time, but not oppressingly so. The only downside is that they don't really taste sour at all.
Flintstones Sour Gummies via Amazon
Info via Flintstone Vitamins