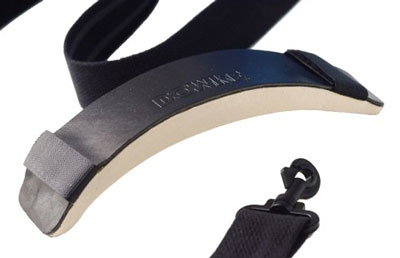 Domke's "Post Office" shoulder pad is an add-on accessory that slips over insufficiently padded bag straps. Although intended to be used with camera bag straps, the P.O.-style shoulder pad can be used with any bag strap up to 2-3/4″ wide.
I purchased a Domke post office shoulder pad about a year ago and have used it quite a few times on my messenger-style camera bag and more recently on my Osprey Transporter 46 Duffel Bag. I found the shoulder pad to be a real pleasure to use, and it really does ease the load and strain on my neck and shoulder!
Domke Post Office Shoulder Pad via Amazon
Product Info via Domke/Tiffen
Street price: ~$15-18
Note: The shoulder pad is just a strap add-on, and does not come with a strap.