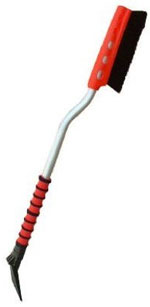 Winter time is fast approaching, so it's about time to check out your car snow-clearing gear. Inspect your ice scraper blade for dings and dents, and your brush for signs of wear and tear. The last thing you want is to have to buy a new snow brush after the first or second big snow.
In the past I bought whatever good looking snow brush the local supermarket or home improvement store had on display at the front of the store. Five years and 3-4 brushes later, I decided to try something else. I've broken too many snow brushes mid-season only to find all the local stores sold-out, leaving me to use a kitchen broom to clean our cars with the help of gloved hands and arms.
Unlike many of the imported ones I broke, and in some cases broke again and again, these Mallory brushes are made in Canada. I bought for a beefy Ultra Maxx brush, and a telescoping one that has a pivoting head. Hopefully they won't fail when I need them most.
Mallory Ultra Maxx Snow Brush via Amazon
Mallory Pivoting Head Tele-Broom via Amazon
Product Info via Mallory