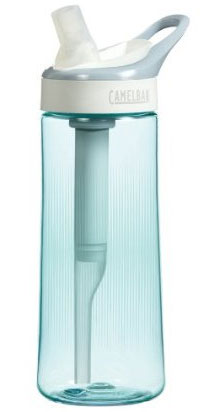 Camelbak recently came out with their new Groove 0.6L water bottle, for on-the-go water filtration. Tap water goes in, cleaner filtered water comes out. The Groove is made from Tritan a durable BPA-free plastic, and has a BPA-free cap and straw with silicone bite valce.
There are a few things to be aware of. First, while you can fill the Groove with flavored drinks, the filter might remove the taste. Second, the Groove can only be filled with tap water or other potable water sources. This isn't a "fill from the pond" type of filter. The Groove is designed to remove chlorine, taste and odor from tap water.
The Groove is dishwasher safe (excluding the filter) but is not microwave safe. The disposable filter is expected to last an average of 3 months if used to filter 3-4 bottles of water per day.
You can find the Groove at Camelbak distributors for ~$25 each, and replacement filters are sold for ~$5 for 2.
Camelbak Groove Water Bottle via Amazon
Product Info via Camelbak