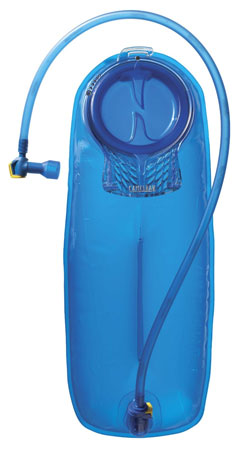 I was checking out Camelbak's new hydration gear, and saw that they recently introduced a new hydration water bladder, called the Antidote. The Antidote series of bladders offers several significant upgrades over the previous Camelbak bladders.
First, Camelbak has upgraded the bladder fillport with a quick-snap cap that locks down with only a one-quarter turn. I'm always conscious to not over-tighten my reservoir caps, but they seem to love tightening up on their own. Hopefully this new cap changes that.
Camelbak also changed up the hose attachment point. These new reservoirs now feature a quick-disconnect connection for easy removal and cleaning. Finally!
Perhaps most significantly, Camelbak added a seam straight down the middle of each bladder. Inserting a full reservoir into a pack isn't too difficult, but the bladder will bulge out like a barrel in a very space-wasting and uncomfortable way. The new seam is said to give full bladders a flatter geometry.
Last but not least, each bladder includes two swing-away clips that hold the bladders wide open for quicker drying.
All of the 2011 packs I looked at include the new Antidote bladder, and it is also available separately as a drop-in replacement for older packs.
Camelbak Antidote Hydration Pack Water Reservoir via Amazon
Product Info via Camelbak