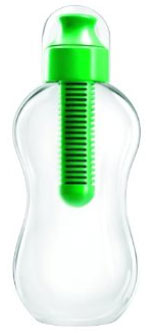 Although Camelbak's Groove filtering water bottle has been in stores for at least 2 months now, I haven't seen anyone in public sporting one. But I have been seeing tons of Bobbles. Tons, and tons, and TONS of Bobbles.
Bobbles are BPA-free water bottles with built-in and replaceable filters. I first spotted these a long time ago but though the bottles felt a little flimsy and thought that their popularity would pass. (To be fair, almost all other plastic bottles feel flimsy compared to Nalgene bottles.)
Bobbles are available in several sizes and a range of colors, and are priced at $9-13 each. Replacement filters are priced at about $7-8 or so each, but only need to be replaced every 2 months of after filtering 40 gallons of water. Reviews are mixed but overly positive.
Bobble BPA-Free Filtering Water Bottle via Amazon
Product Info via Bobble