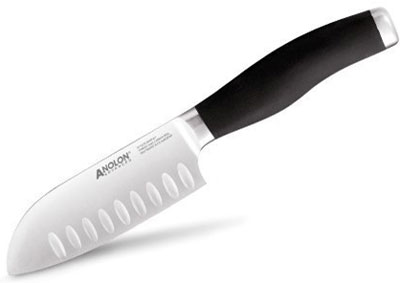 While I'd love to splurge for a ceramic Santoku knife, for the time being I'm making due with what I've got – Anolon 5″ and 7″ santokus with Santoprene handles, which are fantastic knives.
Personally, I prefer to use my 5″ santoku over the 7″ one. I've been using the 5″ version for over four years now, and it's still pretty darn sharp. One of these days I'll give it a good sharpening, but with my recent luck a razor-sharp knife might not be the best of ideas.
I remember paying maybe $20-25 for the knife, bit these days it goes for less than $15.
Anolon Santoku Knives with Santoprene Handles: 5″ Knife, and 7″ Knife, via Amazon