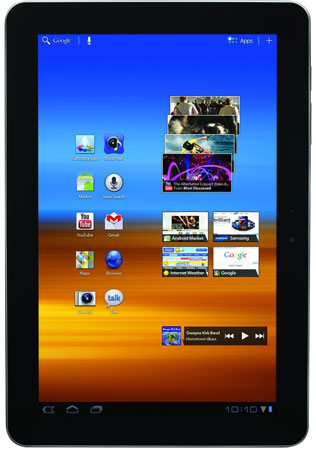 Samsung's new Galaxy 10.1 Tab tablet is the latest in a series of recent Android tablets that include the Motorola Xoom, Asus Transformer, and Acer Iconia. Despite a similar spec-sheet, the Galaxy 10.1 Tab is a bit thinner and is also running the newest version of Android's Honeycomb OS.
The Galaxy 10.1 Tab doesn't have any built-in connectivity aside from WiFi and Bluetooth. Samsung instead chose to follow the Apple route, and offers a USB port via an add-on adapter. An SD card adapter may also be available.
I've been waiting a few months now for the right time to pick up an Android tablet, and so I splurged for the Galaxy 10.1 Tab. So far, I've got no complaints about the tablet itself. However, the same cannot be said about the accessories, or lack thereof. All the accessories I am interested in, such as a case and desktop dock, are out of stock. Not only that, apparently the separate desktop/media dock doesn't come with its own charger.
The charging cable itself is also quite a bit too short. What the heck was Samsung thinking? Also, because of the battery chemistry or something of the sort, the tablet takes a bit of time to charge. Normally I charge my phone overnight, so I'll probably do the same with the Tab.
Overall, I'm pretty pleased with the Galaxy 10.1 Tab. I know that Amazon tablets are due to arrive in the late Fall, and that Nvidia will be replacing the Tegra 2 processor with a much faster chip in the Fall as well. But, tablets are at the point where technology will keep advancing rapidly. There will always be better tech on the horizon.
Samsung Galaxay 10.1 Tab via Amazon