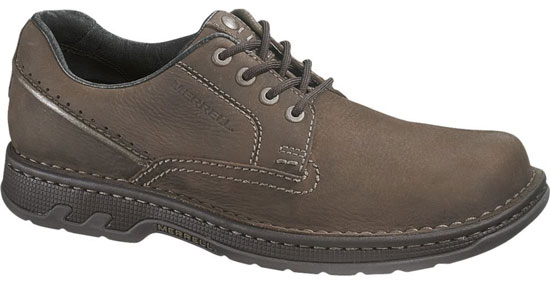 I once went to 3 shoes stores in a mall – at least one of them twice – looking for a new pair of sneakers. A couple of years have passed, and I'm still unbelievably picky when it comes to footwear. These days I usually order footwear online, but the selection process can still be quite lengthy.
On the way out of a nearby mall about 2 months ago, I stopped in at the Merrell store. I don't remember what I was looking for, but since I needed new shoes, I browsed the rack. I wasn't really going to buy a pair. Full retail price? I don't think so.
I only had a couple of demands – the shoes must be comfortable and I must be able to wear them with anything from jeans to khakis. I saw two designs I liked, the World Rambler and the World Route styles. The World Route shoes weren't exactly my style and had a weird geographical world tread pattern, but they were waterproof and fit my other criteria, so I tried them on.
Although a bit pricey ($135) and not quite my style, I bought the shoes right then and there. That was maybe two months ago.
Two months of nearly daily wear and the shoes are as comfortable as day one. The laces are in good shape, there's little wear on the soles, and the leather looks almost as good as new.
Waterproof? Tested and confirmed. Comfortable? Yep, even after a whole day's walking around. Durable? Thus far there's no sign of weakness.
Would I buy these again? Absolutely.
Buy Now(Amazon)
These shoes seem to be hard to find these days, so maybe they're last year's style? My feet can't tell the difference.