(This is a guest post by my wife, who made some seriously delicious guacamole last week!)
Are you looking to finally make your own guacamole? Here's how:
The first time I made guacamole, it wasn't exactly a hit. I had followed a recipe, but the guacamole just didn't taste the way we had expected. Maybe our taste buds were spoiled by the Wholly Guacamole we purchased regularly from the supermarket, maybe I picked a bad avocado, who knows.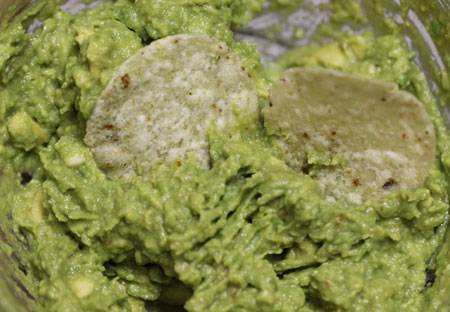 Over a year passed since the original attempt, but I decided to give it another shot. This time, the guacamole turned out pretty good. It wasn't perfect, but it was definitely tasty!
Ingredients:
Whippin' it All Up
Slice the avocado lengthwise (not across its equator), twist and pull the two halves apart. Remove the pit with a spoon.
I prefer to cut the flesh into sections and then pop them out of the skin, but you can just scoop the flesh with a spoon.
Add the avocado to a bowl and then just 3-4 dashes of lime juice or red wine vinegar. The acids in the line and vinegar help prevent (or at least delay) oxidation (which is the chemical process that turns guacamole from a vibrant green to a muddy brown color).
Lime juice is traditionally used in guacamole (for both oxidation prevention and flavor purposes), but since I didn't have a lime on hand I used red wine vinegar, and the substitution turned out okay.
Add in the minced garlic, cumin, a pinch of salt, and the salsa.
Mash everything with a fork. Depending on your tastes, you can make the guacamole as smooth or as chunky as you like.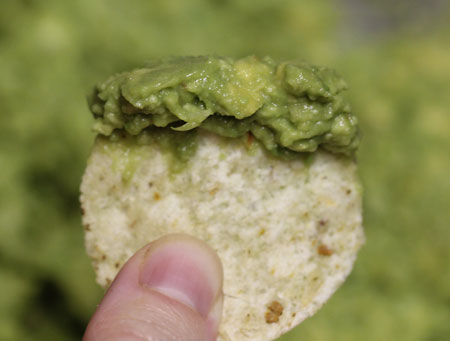 Stuart's Notes: A bit of fresh crushed hot red pepper may have spruced things up a bit, but the guacamole was quite tasty on its own. Coming from me this is saying a lot since I'm not a huge fan of guacamole and can be somewhat picky.
We opted for Spike's sauce rather than salsa because it is less chunky and does not have any diced or chopped tomato pieces. Its ingredient list is actually rather simple and modest: tomato puree, jalapeno peppers, onions, vinegar, salt, natural flavor, dried garlic. For your guacamole to be truly homemade, you may want to consider whipping up your own sauce/salsa-type flavoring, but we didn't think it was necessary.
Also worth mentioning is that some people (like myself) will enjoy guacamole much more after it has been chilled for a bit.