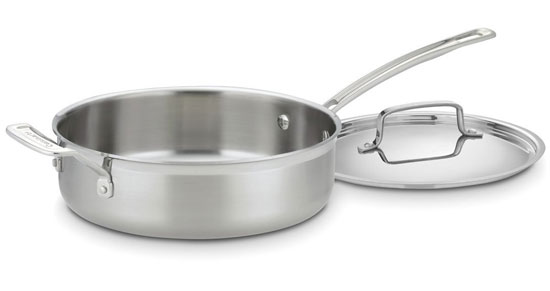 While I desperately want to buy a few All Clad saute pans, I have nothing but good things to say about Cuisinart's MultiClad line. I have used Cuisinart MultiClad pans for a few years now, and recently bought a new 3-1/2 quart stainless steel saute pan with cover and helper-handle.
To be fair, I have had a positive experience with Cuisinart's inexpensive Classic pans, but they feel a little light compared to MultiClad equivalents. The materials, joints, and even the handles feel different.
The 3-1/2 quart saute pan is the perfect size for smaller dishes. While bigger is better normally applies to a lot of things, the 5-1/2 quart pan would be too oversized for small-to-medium sized meals. Not that the volume would be too big, but the footprint.
Cuisinart MultiClad pans feature triple-ply stainless steel construction with a pure aluminum core for uniform heat distribution.
What I like about this style pan is that it comes with a cover – which is used more often than not – and an auxiliary handle that is well appreciated when moving a fully loaded pan.
Buy Now(via Amazon)
This pan isn't exactly cheap at $80, but its versatility makes it a justified expense. I'm still pining for the All Clad 3 quart pan ($140 via Amazon), but the Cuisinart MultiClad pan doesn't exactly leave me at all wanting for more.